African Hospitality: From Zinga Backpackers To The Sarova Stanley
What does a backpackers hostel have in common with a five-star hotel that had in the past played host to the Queen of England and her husband? Impeccable personal service, that's what! I stayed in both places after my overland trip (posts coming soon) and I have nothing but high praises for both places.
Staying at Zinga Backpackers was like staying with old friends. It was a very short stay, but I loved everything about this place from the decor to its layout, the quotes on the walls and my Obama hut which had an outdoor shower. The bed was very comfortable and talking a cold shower under the hot Zambian sun was very refreshing.
Gift the manager of the hostel was always on hand with good conversation and never-ending beers while Peter helped out with all my needs and was a great company. My favourite person is Martha who took me on a night out in Livingstone. Perched on the bar, nursing one of the bottles of Mosi beer from Gift, she walked up to give me a hug and introduce herself with a big smile. I had never seen a stranger get that excited seeing me, so I wasn't sure if she was real or if I was hallucinating as a result of the malaria pills I had taken days earlier and from which I was already suffering severe side effects. I stared for what seemed like a minute while she held both my hands and alias, she was real! I gave her a hug, told her a bit about myself and asked her the best night spots in town. She started listing a few places but changed her mind and asked me to get ready for 7 pm instead. She'd take me out to town herself.
We went to Limpos a popular restaurant and bar with a fantastic live band and a very lively crowd. I believe this is the place to see and be seen in Livingstone. Martha and I danced holding hands before being joined by a woman who pulled our hands so hard we thought they'd fall off. She was dancing but it looked more like fighting. Bless her! She joined our table and insisted on introducing us to a boisterous group of women by the corner of the lounge who are members of an association of divorced women in Livingstone. I passed on the opportunity of becoming an honorary member for the night, however, that did not stop her from giving us marital advice before dancing away from. Martha and I were beside ourselves with laughter after she had left. The night ended around midnight and Martha dropped me off in a taxi before heading home.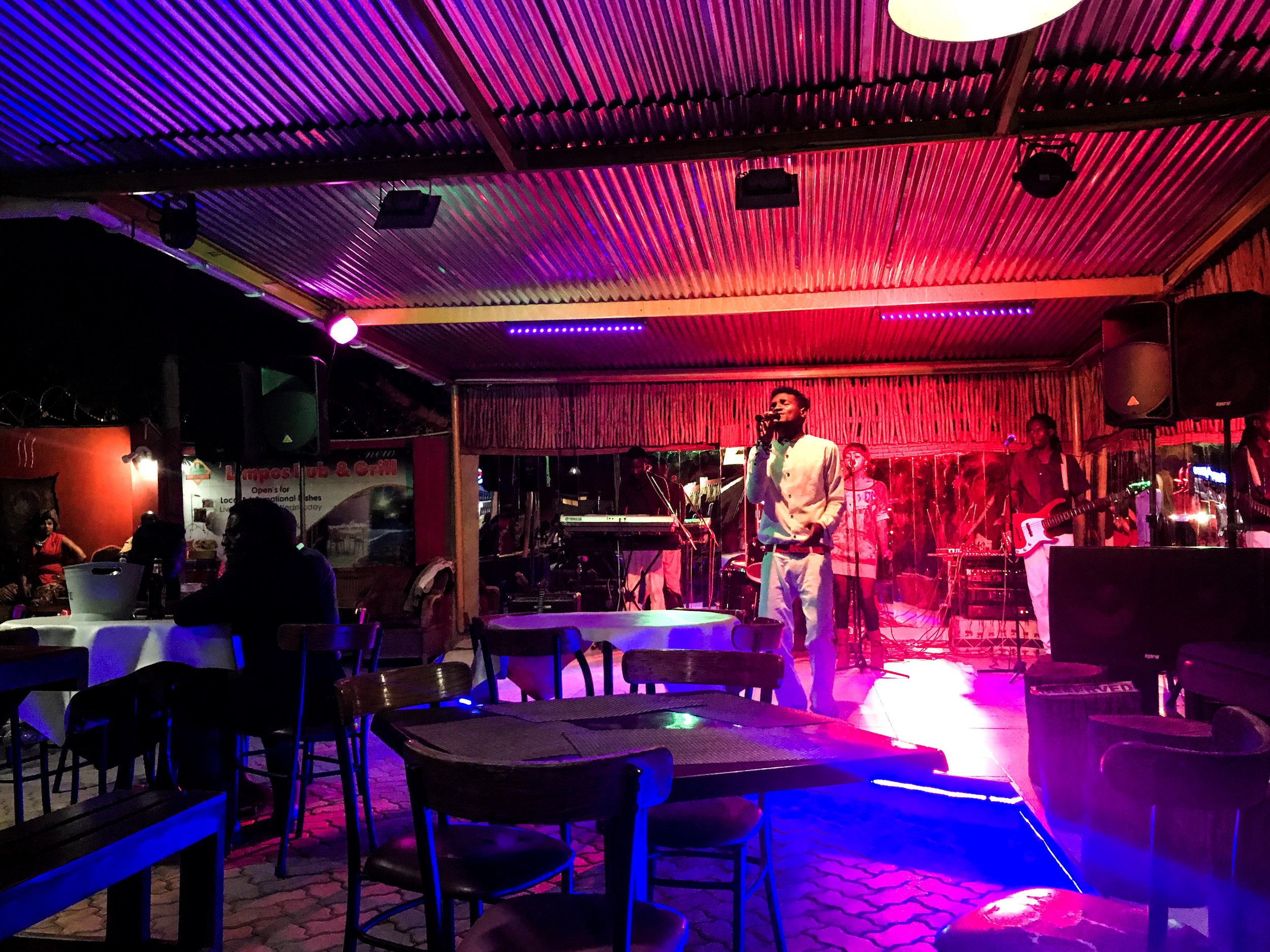 If you find yourself in Livingstone, I recommend highly at least one night at Zinga. They'll pick you up from the airport/bus station and organise all your activities in Zambia or Zimbabwe. If you do visit, please give Martha a hug for me.
From Livingstone, I flew to Nairobi and Sarova Stanley, an oasis in Nairobi's CBD, was my home for a week. I was right in the middle of the city and only a short drive from most bars and restaurant but having travelled over 5000km by road, all I wanted was to kick back and relax.
On most days I laid by the pool and knocked back tons of yummy cocktails from the Pool Deck Bar. When I had dinner at its famous Thai restaurant, Thai Chi, I received a complimentary head and shoulder massage while waiting for my meal. Breakfast in the Thorn Tree Cafe was delightful and the day I didn't show up for breakfast I received a call from the front desk inquiring about my well-being as they noticed I was absent during breakfast.
The service was top notch, the meals were tasty, the mixologist did a good job with the cocktails and for seven days I was treated like royalty
Have you stayed in places you loved so much you can't wait to go back? Where's the best place you've ever stayed in?